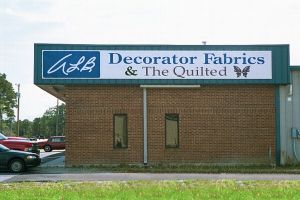 Welcome to ALB Decorator Fabrics, Inc. and The Quilted Butterfly!

ALB Decorator Fabrics is named after my late mother, Alice LouEmma Brameyer, who started me sewing at the tender age of four (my first project was a doll pillowcase I made on her portable GE sewing machine). The "ALB" script logo is taken from her handwriting. We have been in business since late 1999, offering Carteret County's largest in-stock selection of first-quality decorator fabrics--both new and vintage--for home, business, or boat. We also offer custom fabrication as a service to our customers who prefer to let someone else do the sewing for them! And, we offer classes to help you tap into your own decorating creativity.
The Quilted Butterfly offers a spectacular selection of high-quality cottons, including imported oriental fabrics, colorful hand-painted batiks, and authentic vintage era fabrics. We design many of our own patterns, kits, and color-coordinated fabric sets, and are always ready to help you plan your next special project.
We also offer specialty classes and our famous "husband's corner". What made it "famous" was the article a man who travels the country with his quilter wife wrote for Quilt World not long after we opened (a framed copy of it is on our wall). In it, he proclaimed us "the best quilt shop I ever visited" because of our comfy lounge chair and the big bowl of candy he could enjoy while his wife shopped. More than one spouse has had a snooze in that chair, and not a few have shopped for cars and boats in the magazines offered for their perusal. We've since added a second chair (after all, quilters often travel in pairs!) and also offer a television remote for those men who absolutely need to feel in control while visiting us! Our philosophy on this is simple: Men are a more important part of the fabric shopping experience than most people realize. If they're comfortably occupied, their wives feel free to relax and take their time.

Superior customer service is another hallmark of our business. If we don't have what our customers need, we'll do whatever we can to help them find it, even it means we have to send them somewhere else to make their purchase. We like to think our work is as much about solving customer problems as it is selling them fabric.

There's one other very important feature about our store: we are the home of Solly, the Official Canine Greeter. Solly is a red Cairn terrier who has developed her own fan club. Although she's not allowed "people food", she is allowed dog treats, and she knows her "regulars" quite well!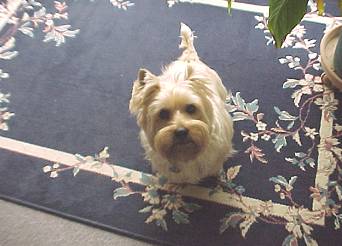 Thanks for visiting us in virtual space. We hope to see you in person soon! Patti Brown, President, ALB Decorator Fabrics, Inc.


ALB Decorator Fabrics and The Quilted Butterfly are open Tues-Fri 10-5 pm and Sat 10-4 pm